Do you ever want to add cost calculation functionality on your website?
Then, WordPress Calculator plugins will do it for you and it does not require any coding skills.
---
---
WordPress Calculator plugins effortlessly create price estimation forms on your WordPress website. Moreover, it can be used on your e-commerce website as well.
Let me explain to you, How?
Have you ever wonder that whenever you purchase a product online. It will show you the different parameters of a product such as color size etc. Then, according to its parameters, the price of the product automatically changes.
It is possible by backend code of calculation. And for those folks who are not that expert in manual calculator coding. Then, here is the list of the best WordPress calculator plugins that lets you create a calculator on your website with no efforts.
---
Cost Calculator Builder by StylemixThemes is one of the most popular and iconic WordPress plugins of WordPress. It will help you create a calculator with 14+ tools. It has a very simple interface with a drag-and-drop feature. From beginner to professional, anyone can create their own calculator with this plugin.
Moreover, you can also customize how you want the calculator to show on the front end. You can change background color, border style, font style, and many more with Cost Calculator Builder. You'll get checkboxes, a dropdown menu, a radio button, a range button, and many more with this cost calculator builder.
---
---
Price
This plugin has both a free and a premium version. The free version can be downloaded from wordpress.org and you can buy the premium version from their website for only $29.99.
Additional Features
Provides a graphical editor for conditional logic. You can set conditions according to your need and see them visually.
You get to set product prices using a drop-down menu with images (pro feature) so that the customer can see how the product looks.
Customers can upload images in the calculator as well with File Upload (pro feature).
WooCommerce Integration helps with orders and checkout.
Contact Form 7 Integration allows the owner to send an estimation form.
Multiple payment gateways such as PayPal, and Stripe are available as well.
---
Cost Calculator is basically a WordPress plugin for quotations, price, and project estimation. This plugin allows you to easily create price estimation forms for your WordPress website. Your clients can fill up the form and as per the selected services, it will show the total estimated cost. This WordPress plugin has templates of different niche such as renovation, services, vehicle services, and medical services and so on.
---

---
Price
You'll get this theme from the codecanyon.net at a cost of $29 only.
Additional Features
It is integrated with PayPal payment gateway. So, you can allow your users to make payments instantly and hassle-free.
The plugin has an inbuilt cost calculator builder with a drag and drop interface within any theme.
Simple and easy to use. Moreover, it comes with a clean code which can easily be modified.
It is integrated with a contact form which proves in more lead generation. Further, your business will improve.
---
WordPress Multipurpose Calculator is a flexible plugin that allows you to complete the tasks of both simple and complex calculations.
Further, it offers a simple and easy to use platform for calculations. It is fully responsive that works well with all types of screens including desktops, laptops, tablets, and mobile devices.
---
---
Price –
It will cost you $21 for the regular license at CodeCanyon.net
And for the extended license, you have to pay $125 only.
Additional Features
Admin can set email for each form
Custom calculations with custom formula function
It works on all the major browsers
WordPress Multipurpose calculator has two skin modes i.e dark and normal
Price calculator with a textbox, checkbox, etc.
---
WP Cost Estimation & Payment Forms Builder is a WordPress plugin that helps you in creating your own responsive calculator.
The plugin allows you to manage your calendar, events & reminders through its powerful booking system. With this plugin, you can also complete the tasks of distance and complex custom calculations.
---

---
Price
It will cost you $39 for the regular license.
Additional Features
You can customize the emails from the backend.
With this plugin, you can upload multiple files with their image previews.
It can manage discounts and coupons.
There are powerful custom calculations tools available in this plugin.
---
It is a premium WordPress Calculator Plugin that lets your website visitors calculate their mortgage amount or their payments based on the interest rates and entered loan amount.
If you are a money lender then having a website with a mortgage and loan calculator is the best way to attract more clients. This plugin provides complete reports to your users. So, that they'll come back again to compare with older reports.
---

---
Price
To buy this plugin from the codecanyon.net, you'll have to pay $16.
Additional Features
With its simple easy shortcode, you can easily embed it on on your website.
It is translation ready. So, you can easily translate any field of the plugin in any language you want.
You can use this in your posts and widgets etc.
Email reports will be sent to your clients.
Provides the statistics for later report monetization.
---
Zigaform WordPress Calculator & Cost Estimation Form Builder is a flexible plugin that allows you to build a clean, simple quote, project price, and estimation forms on few easy steps using a simple yet powerful drag-and-drop form creator. Also, it provides amazing form elements and skin live customizer that makes you build professional forms. Also, it provides an administration section where site admins manage tons of form options.
You can use Zigaform for creating both single and complex calculations. In it, each form element can be assigned a value that will be calculated automatically. Further, it sent the form submissions to both admin and customer with individual texts.
---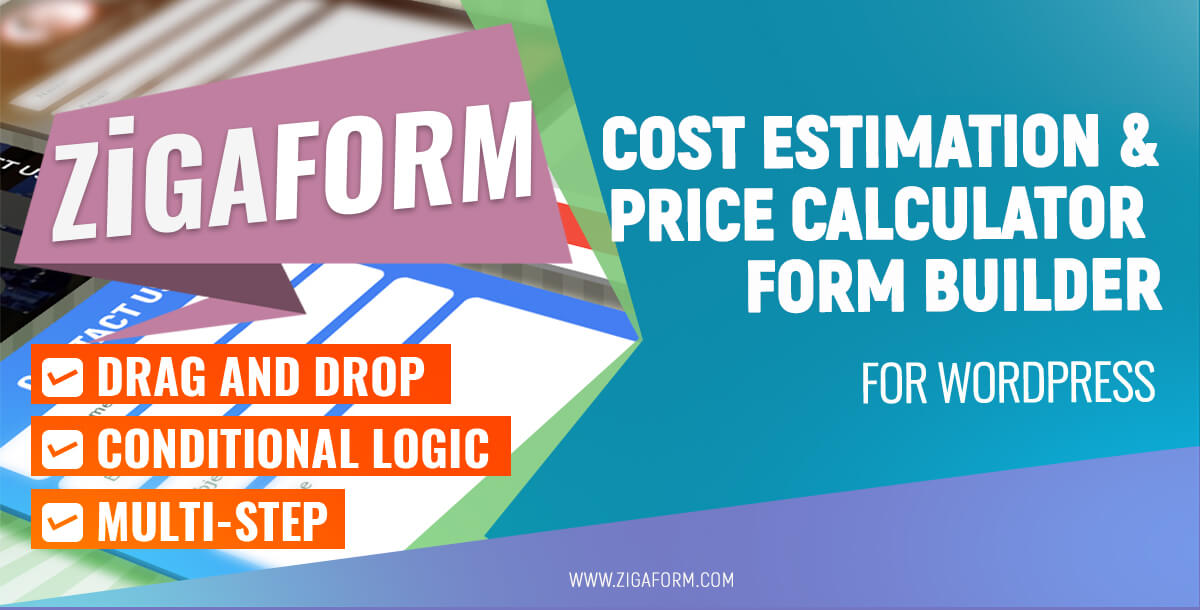 ---
Price
To download this plugin from the codecanyon.net, you've to pay around $39. Also, free version available at WordPress.org.
Additional Features
Supports custom calculation options using which you can make any kind of calculation for your estimation.
Gives a visual editor for conditional logic. It enables you to create smart dynamic forms that help you collect the most relevant information.
Enable your users to pay you via PayPal Payments Standard as part of the Forms submission process.
Offers an advanced grid system to allows you to create unique form layouts in a fully customizable and responsive grid system.
Comes with the support of Google reCaptcha to prevent spammers and spambots.
---
It is the multi-purpose form calculator WordPress plugin which automatically calculates the form values. With the help of this plugin, you can create cost estimators, form calculators, and extensive contact forms etc.
In this, form submission can be sent to both admin and the user individually. This plugin creates PDF files of the submitted form values and attaches them to the emails.
---

---
Price
To download this plugin from the codecanyon.net, you've to pay around $39.
Additional Features
It comes with a backend verification for high security.
The plugin is integrated payments gateways such as PayPal and Stripe.
It is also integrated with WooCommerce. So, you can use the form calculator for your online store.
The plugin is incorporated with MailChimp and Mailpoet for sending an email notification.
Supports advanced calculation with conditional logic.
---
It is yet another mortgage calculator plugin that calculates the payment amounts and interests of the mortgage. Further, it automatically creates data tables to show interest, principal, and balance for your mortgage on a yearly basis.
This plugin can also be used as a renter calculator that calculates the gross income of a piece of investment property.
---

---
Price
Download this plugin at just $12 only from the codecanyon.net.
Additional Features
Fast and easy to use a mortgage calculator. It can be used as a post or a full-page calculator.
It sends reports to your clients on their email address individually.
This plugin is compatible with WooCommerce so you can add e-commerce functionalities to your website.
It is integrated with BuddyPress that lets you build a social community on your WordPress site.
---
This plugin lets you to create a multi-page form on your website and allow your visitors to calculate the amount of loan or mortgage they can afford for the real-states.
The form that is created via this plugin is responsive and placed anywhere you want on your website.
---

---
No Charges
This plugin is available for free on the official WordPress site.
Additional Features
It takes the loan data such as repayment rate, percentage rate.
You can place it anywhere on your website such sidebar, page content and so on.
Flexibility to display the form on multiple places or pages of your website.
Simple and easy shortcodes are available to embed it on your website.
---
FC's Saving calculator is a free WordPress plugin that allows you to create a detailed saving schedule with a set of charts. This plugin enables the site users to select their and date convention for future value schedule.
Additionally, the plugin provides you the complete schedule reports of deposit, interest, and balance. So if you are a financial blogger then you can add this calculator to your website to attract a large number of visitors.
---

---
No Charges
It is free of cost plugin. You can download it from WordPress.org.
Features
It allows the website owner to select the default currency and date format. Further, users are not allowed to change it.
This plugin gives you the facility to add your brand on the calculator.
It can be used in posts as well as any page's content area on your website.
Comes with four predefined sizes. Further, you can modify its CSS file for any changes.
---
Conclusion
Well, that's our take on 6+ WordPress Calculator plugins. We've mentioned both free and paid calculator plugins. So, you can pick the one which suits you the most.
Moreover, you can explore the plugins by clicking on the buttons given below in each mentioned plugins.
Hopefully, that you've like the article. For further suggestions, you can let us know in the below comment section.
Thanks For Reading!
Take a ride on these articles too-